How To Save Yourself From Depression?
Depression is a serious problem facing by the world today. Nowadays everyone running behind the luxurious life and to achieve something. But in this race sometime we failed and todays generation is lacking in fighting with this failure which causes them Depression.
Today United Nations celebrate World Health Day. Depression is the theme of this year.
Every year, the World Health Day is celebrated on the 7th of April to mark the establishment of the
WHO
, an organization that has taken innumerable efforts and measures to tackle different kinds of
diseases and mental disorders
that are taking a toll on innumerable lives throughout the world.
The persistent feeling of sadness or loss of interest that characterizes major depression can lead to a range of behavioral and physical symptoms.
These may include changes in sleep,
appetite
, energy level, concentration or self- esteem.
Depression can also be associated with thoughts of Suicide.
If you feel like the above symptoms, then it's a wake up call.
Be Happy:
No matter what happens, always be happy. Nothing is impossible in this world. Be courageous among every situation.
Studies have
shown
that when chooses to redirect your attention to the positive, your serotonin levels increase. Do meditation as it has been shown to increase dopamine level and feeling of happiness.
Have a good diet:
Healthy food keeps your mind and body active and fresh. Increase the intake of Omega - 3 fatty acid and folate as it helps in treating depression. Emphasize on eating fruits, vegetables, nuts, fish, eggs.
This will give more nutrients and vitamins and make you healthier. Drink lots of water as it releases toxins from the body.
Focusing Fitness:
Take a gym membership and let your all worries drain away in sweat. Yes trust it feels very light. Because all the frustration goes away. Make a daily fitness regime as it makes you fit and you look better. Experts say that exercise increases the body release of neurotransmitter and hormones and also helps to regulate sleep.
Increase exposure to sunlight: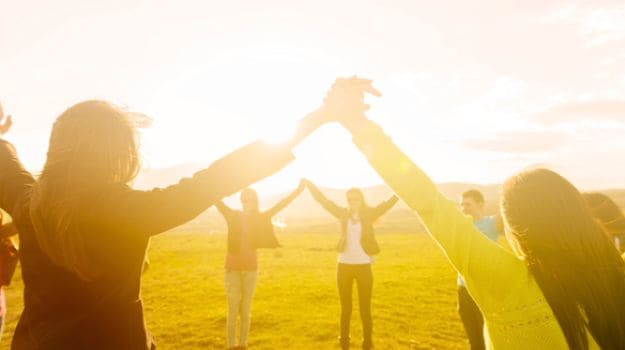 Some studies have suggested that increased amount of sunlight has a positive effect on mood.
Vitamin D plays a role to cure depression.
Go outdoors like Gardening, walking and other activities have beneficial effects.
Read Inspirational books:
Reading is the best habit which people should possess. Reading help in increasing knowledge as well as boost intellectual power. Buy some motivational or inspirational books which boost your mood and generate the feeling of positivity inside you.
Laugh:
Laughing is the best medicine. We all are aware with this fact. Join laughing clubs, make friends to go for parties, join hobby classes or find companions with whom you can laugh and chit chat. Laughing also cures anxieties. Sudden feeling better.
Try acupuncture:
There is a lot of back and forth about acupuncture, but I say keep an open mind. There have been a number of studies that have shown acupuncture helps with pain, and may help with depression and anxiety as well. When the needle enters your skin at one of the 400 body points used by acupuncturists, your body responds by releasing endorphins. This makes you feel calm, happy, and relaxed, and many people say this feeling lasts long after the session is over.
Depression is becoming major issues nowadays. Take care of yourself and your loved ones. Try this tip may be you will make a big impact in someone's life.